Quad bikes are seen as fun and exciting vehicles, however, they are used for many different applications and are subject to laws based on how they are used. In this article, we will look into quad bike laws so you can ensure that you are following the rules while using your quad.
Rules For Using Quad Bikes On The Road
Most quad bikes cannot be used on the road as they do not meet road safety standards. However, if you are looking to use one on the roads you should check with the manufacturer to see if your quad has been approved for road use. If you find that your quad bike has not yet been approved but it meets the safety standards, you are able to apply for type approval. If you are going to using your quad bike on the road, you must register the vehicle with the DVLA, and your bike will require front and rear number plates.
Along with having your quad registered with the DVLA, to drive a quad bike on the road in The UK, you will need to have a full UK driving licence or a category B1 licence if your licence was issued before January 1997. If your quad is over 3 years old, you will need an MOT certificate to be able to use it on the road and you will require third party insurance to legally drive the bike on the road.
Safety Rules When Driving On Roads
Quad bikes are often not designed to carry passengers, although the seat may seem large enough so if there are not two seats you shouldn't be carrying any passengers on the road. You can carry passengers if there are proper provisions including a seat and foot pegs. If a passenger's feet cannot touch the foot pegs or they are not secure on the quad they are not allowed to be passengers. If you are unsure about whether you are able to do this, you can check with your manufacturer.
Although, it is recommended to wear crash helmets while driving a quad bike it is not a legal requirement in England, Scotland and Wales. In Northern Ireland, the law is different as you must wear a crash helmet, or you may face a fine of up to £500. You should also note that it is an offence to use vehicles such as electric quads on pavements as well.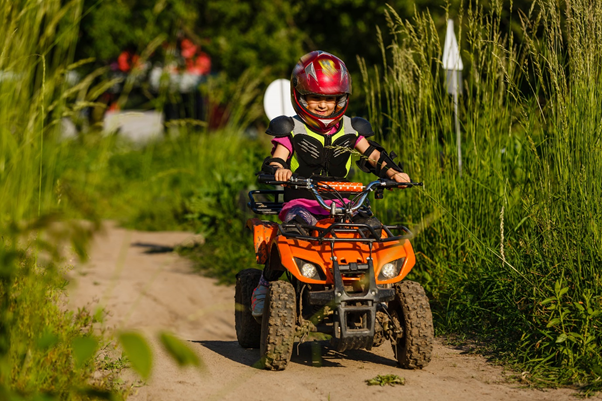 Rules For Off-Road Use
For off-road use, you do not require a driving licence and you also do not need to register and tax your vehicle if it is just being used off-road. However, you can record the details of your quad bike on the off-road register. By registering to this it may be able to help the police if your quad bike is stolen.
Although it is legal to drive a quad bike off-road there are still rules that apply to this that you must follow. You are forbidden from using your quad on council land including parks unless there is a designated area specifically for this type of vehicle. Some areas may have commercially operated parks where the use of quads is allowed. It is important to remember that quad bikes can only be used on private land/property when permitted by the land/property owner.
Rules For Agricultural Use
When using a quad bike for agricultural use you will be required to register it as a light agricultural vehicle. You can use an agricultural quad bike on the road without an MOT, but it must be registered and licenced for road use. You will also need to have a number plate and third party insurance. If you are going to be using the quad at night, you must have lights on your vehicle for your own safety and the safety of other road users. In regards to vehicle tax, you do not have to pay tax on quad bikes used for agricultural purposes. If you find that you do have to pay tax, the tax class will depend on how your quad bike is used –
For bikes used on the road, you will have to pay limited use tax

Agricultural machine class for quad bikes not licensed for road use
Quad bikes designed for agricultural use are usually made with just a driver's seat so they are not allowed to be used for carrying passengers. Another point to remember is that it is against the law for a child under the age of 13 to drive a quad which is being used in agricultural operations.
Now we have gone over the quad bike laws it is over to you to make sure that you follow these rules while using your quad bike. If you are looking for a new quad bike, browse our e-quads today to find the ideal quad to meet your requirements. Get in touch with us today, if you have any questions or require further information.