So, you've been enjoying your electric quad bike, but you are looking to make your experience even better. Well, phyes we offer a wide variety of quad bike accessories to allow you to upgrade and transform your electric quad. In this article, we will include the top electric quad accessories you can use to improve your e-quad. So, whether you are looking to add lights to your quad or you wish to upgrade the motor of your electric quad, these are all changes you can make to your kids quad bike.
Battery Upgrades For Longer Rides
You want to get the most out of your electric quad bike so by upgrading your battery you can make your rides last longer. The battery of your quad bike can wear down over time through heavy or lack of usage so by installing a new battery your quad will run as new again. So, whether you are looking for a spare battery for future use or your battery is broken, we offer a wide variety of battery upgrades to improve your quad bike.
Lights For Late Rides
If you are going to be riding your electric quad at night, adding lights to your quad is essential. We offer a variety of front and rear lights, along with light switches in our range to help you stay visible and safe when riding your quad bike in darker periods of the day. Adding lights to your quad bike is a simple procedure to complete at home and ensures that you are safe when riding your quad in the dark.
Replacing Your Motor
Replacing your motor can make a big difference in the way your quad bike runs and functions. Whether you motor has worn out or you are just looking to update the motor for more or less power, installing a new motor will have your quad bike ready for action again. Installing a new motor will have your electric quad running like it is brand new again so the fun and thrills can continue for you and your children.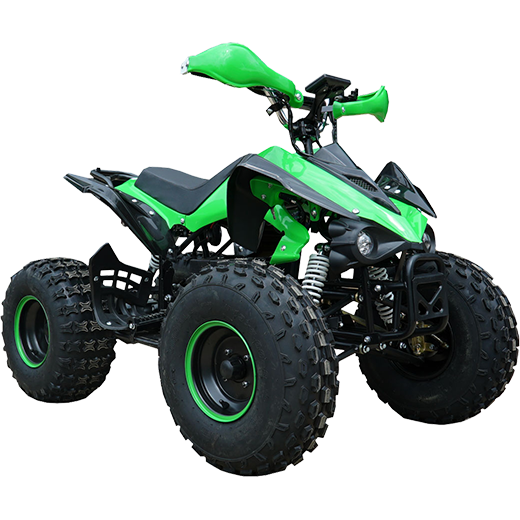 Adding a Parental Control Switch
If you are looking to keep your kids safe while riding, adding a parental control switch is the ideal option. This will allow you to control and limit the speed of your kid's quads bike so you can ensure that they are having fun without the risk of any accidents. Limiters are much easier to install on electric quads and are less expensive to purchase so you can make sure that your children remain safe while enjoying their quad bike.
Updating Your Quad Bike Tyres
Updating the tyres on your kids quad bike can have a significant on the way your quad rides. When your tyres have worn out it can affect the way your electric quad performs and will also make it more dangerous as you will be more prone to accidents. It is important to ensure that you have picked out tyres which will fit the model of the quad bike you have, so if you require advice get in touch with us and we can point you in the right direction.
If you are looking to upgrade your quad bike at home, browse our spares & accessories today to find all of the features you can add and install on your quad bike. For further guidance on upgrading your quad, contact us today to speak to one of our experts. www.phyes.com.cn