Finding the best quad bike for beginners may seem like a daunting task. However, it does not need to be as hard as it may seem. Often beginners will search for hours before finding exactly what it is that they need, and even then they may still receive advice that is not going to help them receive the best product for them.
The term 'beginner' is broad. You can be a beginner no matter your age, not just as a child. Whilst there are starter quad bikes that are specifically for children, there are also quad bikes that are perfect for other ages as well.
Teenage bikes are ideal for those aged between 8-16 and will be an ideal starting block for those ages. Also, adult beginner quads are designed for anyone over the age of 18 that will be looking to begin riding quad bikes at an older age. Also, it can be difficult for beginners to know what kind of accessories and clothing you will need in order to begin riding quad bikes safely.
The Best Kids Quad Bike for Beginners
At Kids Quads we specialise in electric quad bikes for children that are especially designed to give kids a safe and fun thrill ride on a reliable and efficient machine. Knowing what the best kids quad bike model is for beginners can seem tricky as our amazing range covers a wide variety of different features and functions that can set each model apart. Our kids' models are designed for users between the ages of four to nine due to their size and their power. Our models for four-to-nine-year-olds fit in the power bracket of 1000W and 1200W so will give kids enough power to have a fun and positive time.
For users looking for a 1000W quad bike for beginners, we recommend the sport lithium model. This model is lighter, faster and more agile than other models whilst also packing a powerful lithium battery that provides users with a faster charging time and two hours longer usage time.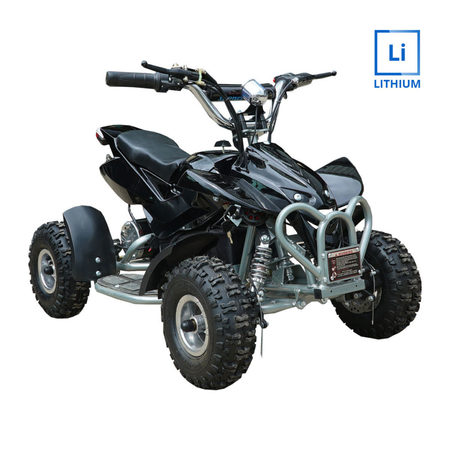 For a more robust option, our recommendation is the trek brushless kids quad bike. This is one of the best starter quad bikes as it provides beginners with a sturdier, heavier frame that is perfect for rough terrain or off-roading. This quad is fitted with a built-in speed limiter for parents to control their child's speed from the start. This is great for letting them acclimatise to riding a quad bike before building up just how quick they can go. The powerful 1200W motor can reach an amazing 23.6mph and is brushless, meaning that it can be easily cleaned and maintained by the kids that are using it.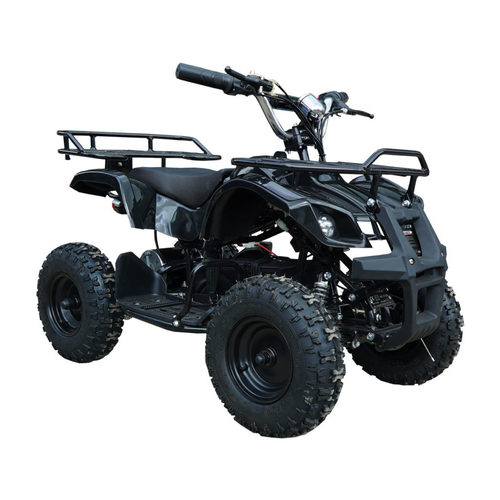 The Best Starter Quad Bike for Teenagers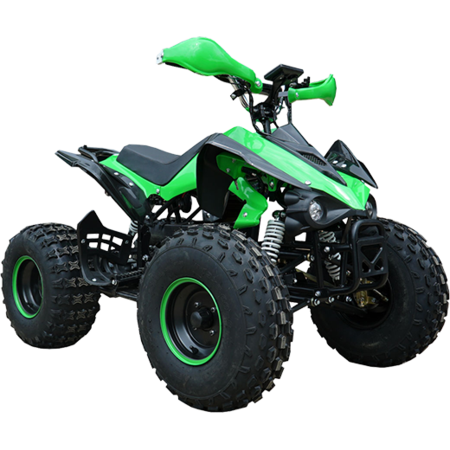 For teenagers, our range is designed to cover quad bikes for beginners ages between eight and 16 years old and we have two power options available.
Our 800W quad bike is perfect for teenage beginners as it is larger and more robust than our kid's options and will be able to carry users up to the weight of 90kg (14 stone). This quad bike is far more durable and safer which makes it ideal for beginners who are looking to get into riding quad bikes. This bike is also fitted with hydraulic brakes as opposed to standard brakes which make it much easier to handle and stop.
For a more powerful teenager quad bike we stock the Teen Pro 1600. This machine is fitted with a 1600W motor and is larger than our other models for similar ages. This size makes this model incredibly sturdy and robust and is also fitted with 16-inch wheels that can handle even the toughest of terrain. Parents can also monitor the speed of the quad bike with low, medium and high-speed settings to ensure safety whilst allowing room to learn.
Beginner Accessories and Clothing
As far as accessories and clothing goes for beginners, you will often require a few pieces of equipment in order to ensure that you are using your quad bike safely. Our accessories and spares cover a wide selection of spare parts which, for beginners, may not be entirely necessary as your quad bike will already be to the highest of standards. However, you may wish to consider purchasing spare batteries, spare chargers or other miscellaneous items such as mud flap sets.
On the other hand, when you are looking at quad bikes for beginners you may overlook the need for specialised clothing. Our range is perfect for beginners and has everything you may need in order to begin riding safely and in style. Perhaps the most important item of clothing for beginners is a sturdy protective helmet. We have both adult and kids helmets that come in a variety of different sizes and colours that are perfect for protecting against hazards. Other protective clothing that you may find useful include shirts, trousers, gloves, goggles and suits. All of these have been designed to give you optimum protection for added safety.
If you would like to learn any further information regarding quad bikes for beginners, or if you would like to make a purchase of any of the products that we have recommended, please get in touch with our friendly team today.www.phyes.com.cn